District Emergency
School closures due to Evacuation Orders
School Closures due to wildfires
Career Pathways School, Wabasca Alberta
Mistassiniy School, Wabasca Alberta
St. Theresa School, Wabasca Alberta
Chipewyan Lake School
Pelican Mountain School (Sandy Lake)
Paddle Prairie School: Closed for the remainder of the 2018-2019 school year.
Any decision regarding school operations will be announced once more information becomes available.
Evacuation Orders
Sunday, May 26, 2019, at 6:00 p.m.: Paddle Prairie Métis Settlement
Re-entry for communities previously under Evacuation Order
Wednesday, June 12, 2019: Phase 3 Re-entry (Return of Residents) for Wabasca-Desmarais, Sandy Lake and Chipewyan Lake. The threat of wildfire still exists for the above-mentioned communities. As a result, a four (4) hour Evacuation Alert will remain in effect.
Question and Answer page for students, parents, staff impacted by the wildfires
Click here to view the Question and Answer page.
School News
Numeracy Night at Grouard Northland School
Posted on

April 3rd, 2019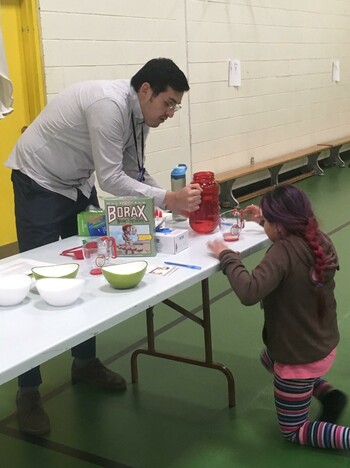 Grouard Northland School staff with support from the Area 1 learning team, hosted Numeracy Night for students, parents, and community members on Thursday, March 28, 2019. Everyone in attendance had a chance to take part in: 
estimate how many,
use measurements to make slime,
graph how many smarties,
use skittles for fractions,
a scavenger hunt of shapes in the school,
use marshmallows to make 3D shapes,
matching number words,
picture and number together 
dice races to 10.
Students, parents and community members were highly engaged in the math activities. It was great to see so many people come out and participate. Thank you to the students, parents and community members that came out for the evening. As well thank you to the school staff for making it a successful night.