School News
ECS Graduation
Posted on

June 13th, 2015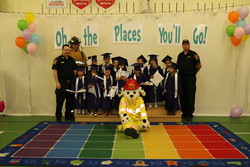 Today was the day the ECS graduated from kindergarten and are on their way to Grade 1!  It was a beautiful event with a surprise visit from Sparkie the Fire Dog.  He came to present a special award to one of our students that wants to be a Fireman when she grows up.  Sparkie also awarded our grads with their certificates of completion.  
Students put on a great show with both a song and a dance, then posed for pictures in the photo booth.
It was a really great day for students, staff and family.