District Emergency
School closures due to Evacuation Orders
School Closures due to wildfires
Career Pathways School, Wabasca Alberta
Mistassiniy School, Wabasca Alberta
St. Theresa School, Wabasca Alberta
Chipewyan Lake School
Pelican Mountain School (Sandy Lake)
Paddle Prairie School: Closed for the remainder of the 2018-2019 school year.
Any decision regarding school operations will be announced once more information becomes available.
Evacuation Orders
Sunday, May 26, 2019, at 6:00 p.m.: Paddle Prairie Métis Settlement
Re-entry for communities previously under Evacuation Order
Wednesday, June 12, 2019: Phase 3 Re-entry (Return of Residents) for Wabasca-Desmarais, Sandy Lake and Chipewyan Lake. The threat of wildfire still exists for the above-mentioned communities. As a result, a four (4) hour Evacuation Alert will remain in effect.
Question and Answer page for students, parents, staff impacted by the wildfires
Click here to view the Question and Answer page.
School News
Community Helpers Visit - Freson Bros. IGA
Posted on

April 5th, 2016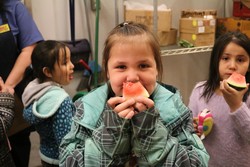 Today the ECS and Grade 1s received a comprehensive tour of High Prairie's Freson Bros. IGA.  We went behind the scenes and got to see all the hard work that goes into preparing food for us to eat and stay healthy.  They treated us to watermelon slices from the produce department and juice boxes.  As well as a beautifully decorated cake for us to take home.  The kids watched as the butcher sliced up some pork shops with the bone in.  They helped make potato wedges in the deli and smelled the live yeast in the bakery.  We had a great visit and the kids were really interested.  A big thank you to the staff from High Prairie's Freson Bros. IGA.